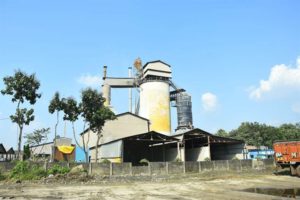 The ultra modern BANSAL CEMENT plant produces the brand BANSAL CEMENT (Portland Slag Cement) that stands for commitment to quality strength.
The quality of any standard cement is judged by performance in combination with water and aggregate as binder material. It's also measured in terms of strength, development workability, volume stability & durability. Our continuous research and improvement has made our product to create benchmarks in these areas.
The high quality in our product is built in through high capabilities in every improved sub-process to ensure high consistency in the product. BANSAL CEMENT has certain very marked benefits that make it unique for all concrete and masonry works including river works, bridges, dam, industrial structures, high rise building, etc.
A powerful mix of high quality on clinker, blast furnace, slag and gypsum provides unique and supreme product called BANSAL CEMENT. Consumers choose BANSAL CEMENT because of its higher compressive strength and unique setting time, produces strong and durable concrete.
The finer the cement, the greater is the strength. BANSAL CEMENT having high fineness and uniform particle size distribution in cement resulting in development of high strength in the concrete.
The initial gain of strength of BANSAL CEMENT is due to its high proportion of clinker used in manufacturing cement provides added advantage to the consumer for reducing time of removing shuttering.
BANSAL CEMENT protects concrete against atmospheric pollution, chemical attack which otherwise leads to erosion and corrosion of concrete.
Higher Compressive Strength & Setting Time

The compressive strength of BANSAL CEMENT is higher than that specified by BIS standards. This is because of increase percentage of clinker used and uniform particle size. Dry fly ash, specially collected from electrostatic precipitation, are used in an optimum way reducing the demand of mixing water and contributing to long term strength. The ultimate final strength of BANSAL CEMENT is higher than that of others. BANSAL CEMENT have unique setting time and hence it is attractive for builders.

Lower Shrinkage

Lower shrinkage are vital and inherent properties of Portland Blast Furnace Slag Cement. Since BANSAL CEMENT, has lower demand of water, low slump and better workability, it offers lower shrinkage due to drying.

High Corrosion Resistance

BANSAL CEMENT, resists corrosion of all kinds because of its high resistance to chemical attacks, lower permeability, finer particle size distribution and less freelime content avoidable for reaction. BANSAL CEMENT ensures durable concrete construction.

Sulphate and chloride Resistance

BANSAL CEMENT, resists sulphate attack on the concrete and provides 100% resistance to attack for its concrete submerged in 10% sodium sulphate or 10% brine water. So, during the time of blending it gives higher strength and better quality cement.

Alkali Aggregate Reactivity

Presence of harmful chemical salts containing chloride ions can give rise to corrosion of reinforcement steel in reinforces. BANSAL CEMENT has a low alkali-ion and a low permeability to water, which slows down this harmful reaction and it is extremely resistant to acids, alkalis, chlorine and sulphur. Lowest magnesia content ensure reduced cracks.

Quality Assurance

An series of tests on clinker, in house modernized laboratory (which is as per the BIS specification) and exact accuracy in the blend. The consistent quality is made possible by good quality raw materials & their homogenization through PBSR and blending Silos, atomization of the manufacturing process, advanced quality control and own generator sets for continuity in production. So, BANSAL CEMENT is assured the best Quality of Products.

BANSAL CEMENT opened up a whole new dimensin in building construction. The runway success of BANSAL CEMENT is a fitting testimony to its endeavor to provide the consumers only the very best high compressive strength. The high strength is attained through high quality raw material and equipped with modern technology. This directly facilitates quality & quick constructions.